Sustainable aviation surges forward in the UK!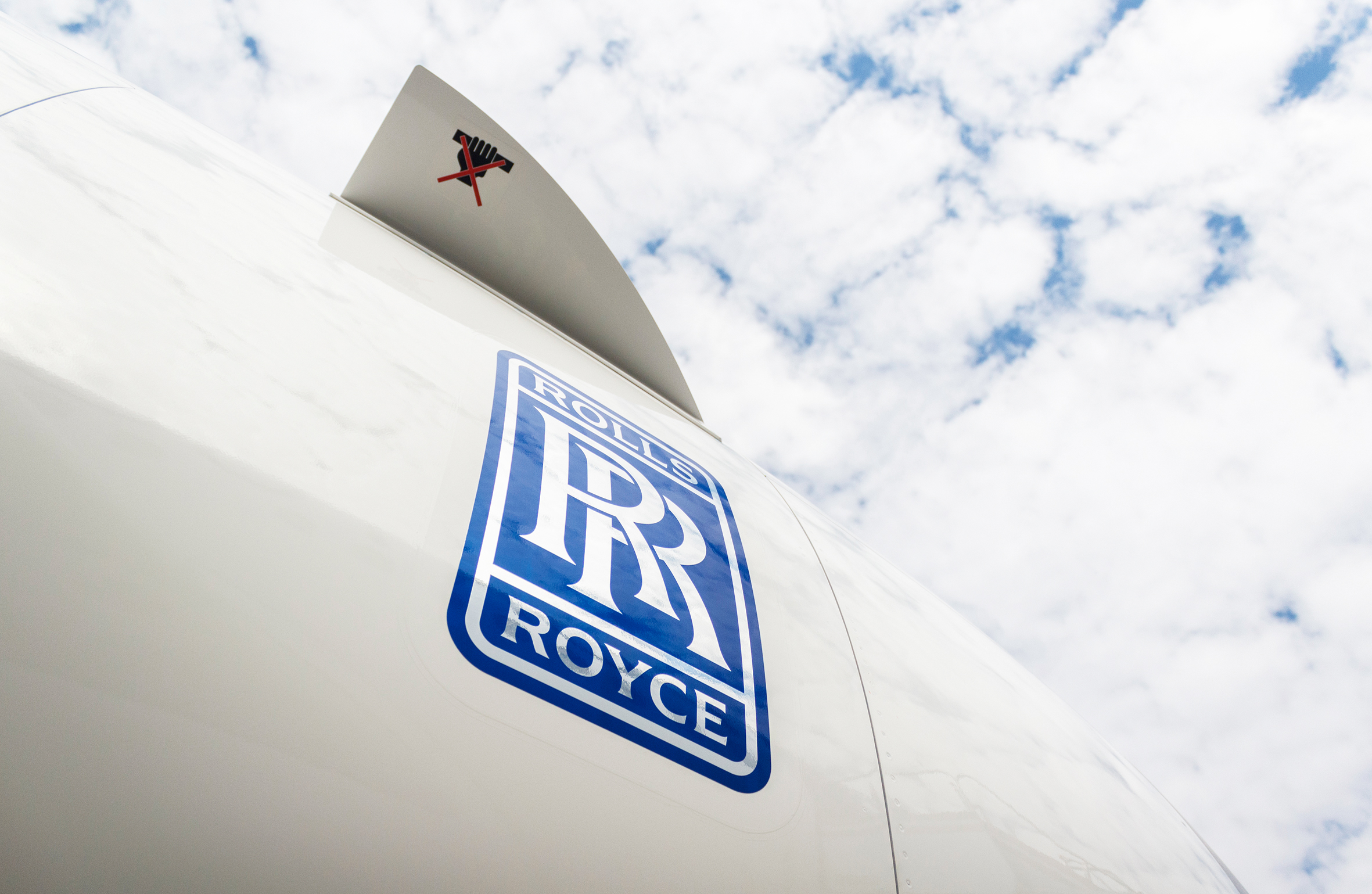 One of the worldwide aerospace industry's leading lights has made a major step forward in realising its mission of achieving net-zero.
Rolls-Royce, which makes aerospace engines, has recently conducted initial tests of its newly-developed 100% Sustainable Aviation Fuel using a business jet engine, as part of its overarching target of playing a driving role in enabling the sectors in which it operates to achieve net-zero carbon emissions by 2050.
These tests, performed at Rolls Royce Deutschland's headquarters in Dahlewitz, near Berlin, came just weeks after the world-famous aero engine manufacturer successfully used unblended Sustainable Aviation Fuel in engine ground tests at its main UK site in Derby.
Following its decision earlier this month to withdraw from the US-based Boom Overture Supersonic Airliner project, Rolls-Royce is continuing to redouble its efforts on developing ways to make global aviation more efficient and environmentally sustainable, pursuing alternative technologies wherever possible, as it plots its course to net-zero.
The Sustainable Aviation Fuel used in these tests was produced by low-carbon fuel specialist World Energy in Paramount, California, sourced by Shell Aviation and delivered by SkyNRG. This unblended fuel has the potential to reduce net CO2 lifecycle emissions by more than 75% compared to conventional jet fuel, with the possibility of further reductions in the future.
Both tests have neatly demonstrated that Rolls-Royce's current engines used in large civil and business jets can operate with 100% SAF as a full "drop-in" option, and this lays the groundwork for progression this type of fuel towards full certification. At present, Sustainable Aviation Fuel is only certified for blends of up to 50% with standard jet fuel.
Another exciting innovation from Rolls-Royce is the Pearl 700 engine, which will power the new G700 business jet from US aerospace giant, Gulfstream. Developed at Roll-Royce's German HQ at Dahlewitz, the Pearl 700 combines the company's existing Advance2 engine core – the most efficient of its kind across the business aviation sector – with a brand-new low-pressure system. This results in an 8% increase in take-off thrust at 18,250lb compared to the BR725 engine. The Pearl 700 also offers a 12% better thrust-to-weight ratio and 5% higher efficiency, while maintaining its class-leading low noise and emissions performance.
Advanced technologies used in the Pearl 700 also include a super-efficient 51.8" blisked fan, a high-pressure compressor with a ratio of 24:1 and six blisked stages, an ultralow emissions combustor, a two-stage shroudless high-pressure turbine and an enhanced four-stage low pressure turbine.
Turner & Coates – taking expediting literally
Since our foundation way back in 1880, we have built a vast amount of diverse experience and proven expertise across a wide range of industries, from pulp and paper manufacture to power generation. It's our tried-and-tested methods and positive, proactive approach to change that enables us to remain at the industry's cutting edge in the face of today's constantly evolving global economy.
Our relationship with the aerospace/aviation industry stretches back many years, principally in an expediting and quality management capacity.
To us here at Turner & Coates, expediting – sometimes also referred to as vendor surveillance – is so much more than a simple checking exercise. We see it as anticipating and highlighting potential problems, and helping to prevent delays through a detailed review of supplier documentation and equipment inspection, whenever and wherever it is necessary and appropriate.
We routinely expedite everything from pumps to power cables, and benefit from a solid, dependable track record in all the major global industries including aerospace, aluminium processing, oil, gas & chemical manufacture, power generation and pulp, paper & packaging.
Our high quality expediting capabilities – at the core our service portfolio since the 1930's – are also focused on analysis of activities and, of course, working in close conjunction with your contracted suppliers to achieve a mutually satisfactory and workable solution.
At all points during the expediting/vendor surveillance process, we strive to ensure that your order is given the very highest priority by your supplier, and is manufactured to the standards you require and demand. Furthermore, we'll maintain the supplier's focus on delivery to a pre-determined schedule or deadline.
As you would expect from one of the industry's longest-serving global inspection and expediting companies, we enjoy professional and experienced representation in all of the major continents, and can work and report back in a variety of different languages, upon request. This not only help us to maximise efficiencies along supply chains, it also enables us to act as your independent local eyes and ears when overseeing any project, whilst offering a cost-effective solution that invariably delivers the best possible results.
Furthermore, we're dedicated to getting the job done in a timely manner through our team of experienced inspectors, all of whom benefit from proven project and people management skills.
ISO 9001 – keeping best business practice at the forefront
Perhaps the most vital process for ensuring operational quality and facilitating continuous improvement in today's fiercely competitive business climate, is achieving and maintaining ISO9001 certification.
In essence, the ISO 9001 standard regulates the quality management systems in place at any given company, whatever their size or business sector. Certification in this standard – by far the world's most widely recognised and implemented quality management system – is always in high demand, as it adds a guarantee for the services a company offers and, subsequently, increases the confidence of existing and potential customers alike.
ISO 9001 helps companies and organisations succeed through enhanced customer satisfaction, staff motivation and ongoing development of their day-to-day business practices and procedures. With over 500 clients already successfully guided through the ISO9001 implementation process, Turner & Coates is one of the UK's most dedicated and experienced Quality Management service providers with an established, global customer base and a simple, straightforward approach that consistently meets client needs and expectations.
Some of the principal advantages of gaining ISO 9001 certification for aerospace/aviation operators include:
* an increase in the reputation of the company within its sector.
* continuous and demonstrable improvement of the efficiency control of company processes in all areas.
* an increase in the motivation and training of employees.
* optimized documentation systems and reduced duplicates.
* an overall increase in customer satisfaction.
* the potential to realize greater economic revenues.
Although the rules and demands in this area may change over time, the core standards for businesses requiring ISO9001 certification include:
* a set of procedures covering all key processes.
* monitoring these processes to ensure they remain effective.
* suitable and accurate record-keeping.
* checking outputs for defects, with reparative action taken where appropriate.
* regularly reviewing individual processes and the quality system itself for effectiveness.
* facilitating continual improvements.
AS9100
The ISO 9001 is applicable to companies operating in – and serving – the aerospace and aviation industries. However, there is also an industry-specific quality management based closely on ISO 9001 – namely AS9100. AS9100 uses all of the ISO 9001 standards as its foundation, bolting on additional regulatory requirements and notations which specifically relate to aerospace/aviation quality needs. AS9100 is backed by the International Aerospace Quality Group, and is a common requirement within the industry.
The Quality Management systems we prepare and provide here at Turner & Coates are effective, comprehensive and tailored to a company's specific requirements. Where an organisation has multiple Management systems covering Quality, Environmental and Health and Safety Management, these should form one coherent, fully integrated system. Here at Turner & Coates, our approach to achieving the level of seamless integration required is to remove any duplication or outdated practices and ensure that the system in question – whether combined or stand-alone – becomes part of the day-to-day running of the business or organisation concerned.
Furthermore, we ensure that all Quality Management systems achieve consistency of operation, stimulate ongoing quality improvements, enhance customer satisfaction and foster a more productive, co-operative and fluid working environment. We aim to reduce the administrative burden of your Quality Management system by streamlining the documentation processes. Obviously, a company must be able to operate its own Quality Management system once implemented and, indeed, self-ownership is key to any system's continued success.  Turner & Coates aim to achieve this through a combination of training, education and internal auditing.
---
Call us today on 0161 660 8656 from within the UK. We can also be contacted on +1 (404) 462-5729 from the US and Canada.