In honour of Her Majesty Queen Elizabeth II

Everyone working for and connected with Turner & Coates is deeply saddened by the passing of Her Majesty The Queen. Her unstinting dedication to serving her country and the Commonwealth spanned more than seven decades and, all through that time, she remained the epitome of national unity, stability, compassion and integration during a period of swift and significant change.
At all times, Her Majesty The Queen led our nation and its Commonwealth with selfless devotion and singular determination and, while being our beloved Monarch, also raised a loving family alongside her husband, HRH Prince Philip The Duke of Edinburgh. As a nation, we now look to her eldest son, His Majesty King Charles III to continue his mother's sterling work and lead our great and diverse nation with the same dignity and quiet resolve.
We join our nation and its Commonwealth in expressing our sincere grief, and humbly offer our heartfelt condolences the Royal Family.
One-day closure
To honour the official State Funeral of Her Majesty Queen Elizabeth II on Monday 19th September, His Majesty King Charles III has decreed that day as a Bank Holiday and, as a mark of our respect, Turner & Coates will be closed for business, re-opening on Tuesday 20th September.
Over 140 years of standard-bearing experience
Turner & Coates was first established in 1880 by John Coates (pictured left) – an engineer from the North East of England – and, more than 140 years later, we continue to thrive in the constantly changing and demanding world of global inspection, expediting, quality management and supplier assurance.
Throughout our long history, we have always taken immense pride in our standards of expertise, professionalism and customer service. From our very first overseas contract in 1886 – overseeing the construction of the Colonial Gas Association in Victoria, South East Australia – we have since become one of the world's most tried-and-trusted inspection, expediting, auditing and quality management organisations, with a large and diverse client base across the globe, including many prominent Commonwealth nations such as Canada, Australia and New Zealand.
When we first opened our doors for business – on Cannon Street, London, less than three miles from Buckingham Palace – Her Majesty Queen Victoria was still on the throne and we've been diligently working and growing ever since, as our great nation has been served by six succeeding Monarchs – Edward VII, George V, Edward VIII, George VI, Elizabeth II and now Charles III.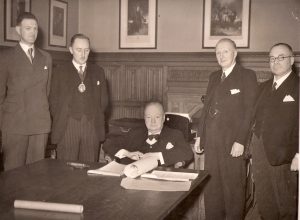 We're also no strangers to leading the way in our field. As far back as 1946, our then MD Ted Turner, who was also the President of the Royal Society of Engineers, was invited to the House of Common to meet with Sir Winston Churchill – Her Majesty Queen Elizabeth II's first Prime Minister when she ascended to the throne on 2nd June 1953 – to present an Honorary Fellowship certificate to the PM.
Turner & Coates has also had indirect dealings with royalty during our long-time in business. Back in 1909, the daughter of our founding MD John Coates – Katherine Coates – married Canadian-born Merchant Banker, Sir Edward Peacock. Sir Edward subsequently became Chairman of Turner & Coates, alongside his principal role as Director of the Bank of England (which he became in 1921) and later, Barings Bank. During this time, he was also a Director of the Hudson's Bay Company, as well as The Rhodes Trust.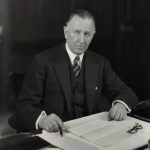 In 1929, Sir Edward Peacock – while still Chairman of Turner & Coates – was made Receiver General to the Duchy of Cornwall, a hugely prestigious and highly responsible role which entailed dealing directly with the Royal finances. For these services, he was knighted by George V in 1934, and Sir Edward remained Receiver General until the death of George VI in 1952. Incidentally, Sir Edward Peacock (pictured left) was also an adviser to King Edward VIII – the UK's shortest-reigning monarch – during his abdication from the throne in December 1936, to facilitate his marriage to Waliis Simpson.
Our many years in business have seen the Turner & Coates service portfolio adapt and evolve, in order to anticipate and react to changes in a constantly shifting worldwide marketplace. However, as originators in our field, we see excellence and efficiency as rock-solid, timeless business attributes, and believe our comprehensive service package to be unparalleled in both its scope and application.
We're justly proud of our rich industry heritage, here at Turner & Coates, as we look to the future and commit ourselves to enhancing our standards of service, innovation and expertise still further in this, our third century in business.
Turner & Coates – excellence as standard!
---
Call us today on 0161 660 8656 from within the UK. We can also be contacted on +1 (404) 462-5729 from the US and Canada.